Oil Change
Tune-up
Air Conditioning Service
Alignments
Fluid Changes

Engine Rebuilding
Transmission Rebuilding
Rear Differential
Carburetor & Clutch Service
Exhaust
Frame/Chassis Repair

Performance is the foundation of your corvette. Vettestorations' mechanics are certified master mechanics and can fulfill your repair or performance requirements. Your frame or structural issue can be addressed, from a minor refurbish to a major frame re-construction.

A variety of services for your Corvette are offered at Vettestorations, such as transmission service/ rebuild/ replacement and clutch repair, engine tuning/rebuild (stock or high performance) replacement, suspension replacement, cooling system and radiator service, rear differential service, brake service (using state of the art equipment, such as our on-car brake lathe to turn rotors, saving you money), electrical repair, alignments, air conditioning service (including retrofitting to R134 if necessary), and exhaust repair.

"Fabrication of structural stand to enable access and easily service customers' drive trains and all components"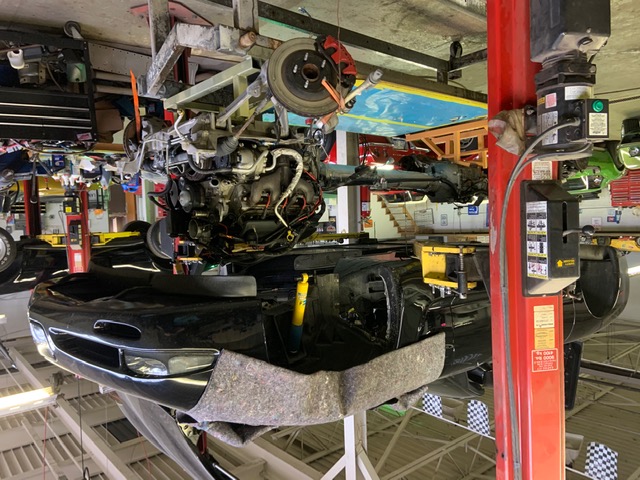 Coming back from Lake Michigan, we had the cruise control set at 75 mph, when a kayak tore loose from the top of an SUV in front of us. It flew maybe thirty feet in the air, flipping end over end until it knifed straight down. I veered hard left, then right and punched it. The vette threw our heads back with the burst of speed, and we aimed for a spot just beneath the kayak before it slammed into the cement behind us. The guy behind us was lucky he caught it in the grill and not his windshield......but the kayak then shattered into three big pieces and damaged other vehicles who could not steer out of the way. Your performance updates and maintenance repairs performed on our corvette saved our lives this weekend.

Very grateful,
M. Stutzmann - Ann Arbor, Michigan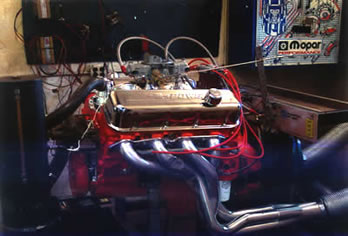 1969 Corvette engine on dynometer