Seat Recovering
Carpet Installation
Kool Mat Installation
Rear Speaker Wall
Fabrication
Door Panel/ Window Repair

Stereo Installation
Wiring Harness Replacement
Gauge Reconstruction
Electronic Diagnostic
Distributor Breaker-less Ignition


The inside of your corvette is just as important as the outside.

Don't be embarrassed to open your door at the next corvette show! You will be pleased with our interior services which include carpet installation, seat recovering, door panel replacement, instrument cluster rebuild, stereo installation, storage compartment replacement, and dash pad and sunvisor replacement.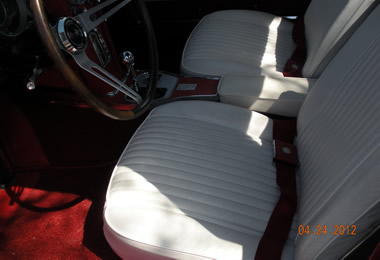 If you have a C5 Vette-filled with great memories but some of the shine has worn off---let my friends at Vettestorations BRING IT BACK TO LIFE. For a small investment, Vettestorations just restored my 2000 convertible C5 and literally brought it to life----like the day it came off the lot. I was blown away. The clear coat gleams, aluminum rims look new again and all those small nicks that only a proud owner knows of, have been all but eliminated and my pride of ownership and passion for the car is at an all time high. Thanks Isaly and Mark. Your passion for your business, your customers, and corvettes SHINES.
From a very satisfied owner,
- Doug - South Lyon, Michigan

Excellent work! I would not take my Corvette anywhere else!
I own a 1998 Corvette that Vettestorations customized to be a 2003-50th anniversary Corvette. I am extremely specific about the workmanship, and I was thrilled to be working with a corvette specialist that saw things as I did. I have proudly won over 125 trophies and awards by displaying Vettestorations' work, my corvette, throughout the country. I am constantly asked about who did the work, I proudly say, "Vettestorations!" -Felix Sawyer
We have a great solution for you! We custom design and install a rear speaker wall located in the rear of your Corvette, carpeting around six by nine inch speakers.This wall is conveniently located to still enable your t-tops to fit behind the seats or your convertible top to fold down.

From basic re-wiring to modern Corvette diagnostics, Vettestorations provides all of your electronic/ diagnostic needs. State of the art equipment allows our technicians to accurately pinpoint any electrical problem you may have.

Does your turn signal start blinking when you activate the windshield wipers? Wiring harness replacement is another one of our specialties.

Stop by today to tour our facility and receive an estimate!